Teaching & Learning with Mobile Technologies Summer 2016 Vodcast Series
IAmLearn's Dr. Rob Power chats with experts from the International Association for Mobile Learning in this series of live (15-20 minutes each) vodcasts covering topics about Teaching & Learning with Mobile Technologies. Feel free to tune in for the live broadcasts at the dates and times listed, or view the recordings anytime afterwards. Pre-registration is not required.
Refer to http://educ5199g.weebly.com/vodcasts.html for the latest vodcast schedules, times, and links.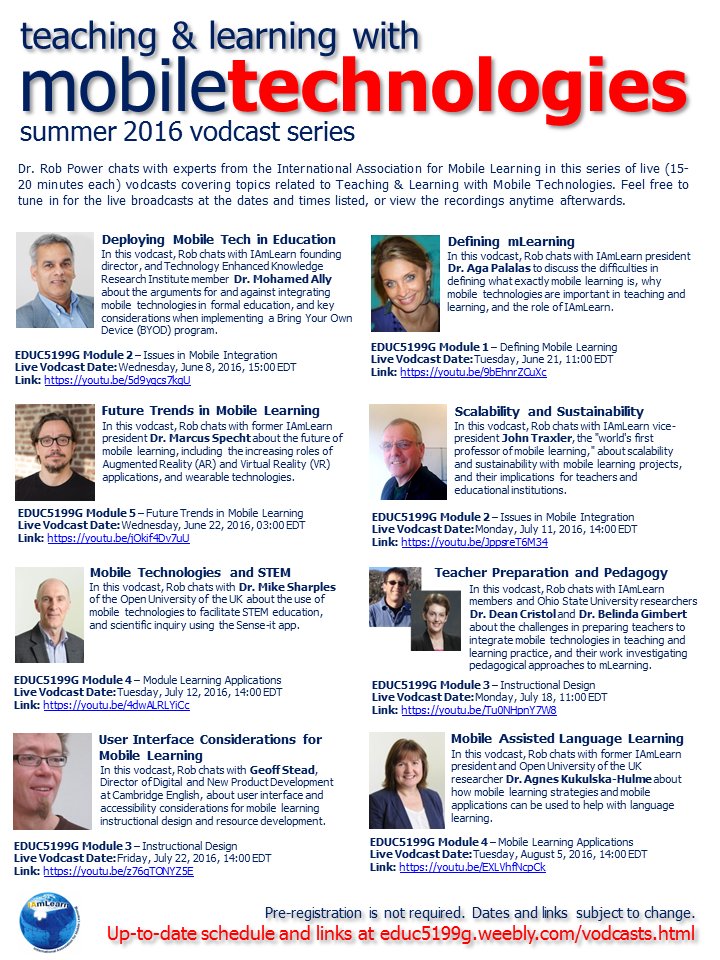 MobiMOOC
MobiMOOC is a free, open and online course which will run from Saturday 8 September – Sunday 30 September 2012 and will focus on learning/training with mobile devices. In a MOOC everyone comes together to enhance their knowledge by entering dialogues, enhancing their networks and … having fun while doing it.
Planned topics are as follows:
8–15 Sep: mLearning intro and planning
16–22 Sep: Mobile Learning Curriculum Framework; Global issues in mLearning; mLearning tools
23–29 Sep: Mobile Games; Augmented Reality mLearning; Pedagogical theory, status of mLearning research; ICT4D; Train the trainer; Corporate mLearning.
The course closes on 30 September with a "special surprise".
More information: http://mobimooc.wikispaces.com/a+MobiMOOC+hello!
Archived mLearn conference websites
Mirrors of previous mLearn sites. Please note that some dynamic content will not function as it would have done on the original site.
mLearn 2014, Istanbul, Turkey
Bibliography
A bibliography of useful mobile learning references that can be viewed and downloaded in various formats